By Dana Simpson - January 22, 2013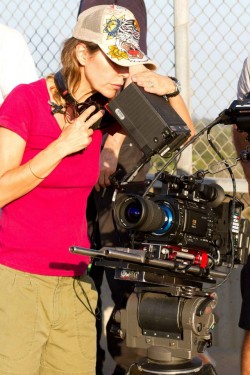 THE BET starring Portia Thomas, Tim Whitcomb, Mary O'Connor, Crystal Daly, and Scott Hagood is the first feature-length production of the Community Film Studio Santa Barbara. In this romantic comedy, a teenager and his grandfather make a tempestuous wager over who will "score" first with a woman. As the plot suggests, this is a wager of deeds, but the bigger bet is a new model in film production. CFSSB is changing the entire enterprise of film-making by recruiting a volunteer, community-based cast and crew. For both professional and amateur, working in a community film studio means trying something new and for three female veterans, Annie Dahlgren, Finola Hughes and Christine Fry, this brought career-changing opportunities that are often out of reach in Hollywood.
FINOLA HUGHES
Directing THE BET was a discovery process that enabled Hughes to apply lessons learned from a lifetime of work in the industry.  "At this point in my life, what has thrilled me about working on this movie is that I have learned so much from different aspects of the business and have gleaned more than I ever realized over the years.  Now I was given the opportunity to put it all together,"
Hughes was born in London. She studied at Arts Educational Schools and began her career in the Northern Ballet Company after winning the Markova award. She performed in the original cast of "Cats" and continued working with Andrew Lloyd Webber in "Song & Dance."  Her first movie, Stayin' Alive, brought her to the states and in 1985 she moved to Los Angeles to begin what would become a 7-year run on "General Hospital."  Television dramas soon followed, including "Jacks Place," "Blossom," and "Charmed."  She has starred in more than a dozen films, most recently in Like Crazy, which won the 2011 Sundance grand jury prize.
The opportunity to work with young actors drew Hughes to THE BET. For nearly a decade, she has led theatre classes at the Waldorf School of Santa Barbara.  "There is something I respond to in kids and their raw talent.  They haven't been touched by the acting machine."   The young actors in THE BET were "living on camera" and Hughes found this freshness "wonderful to tap into."  As a cross-generational story, THE BET also afforded the opportunity to access the point of view of older characters.  "Hollywood just throws you away at a certain age, and a story about seniors appealed to me.  We have not looked to them enough in our storytelling."  In the company of those embarking on their first onscreen performance, older cast members dovetailed with their training and experience.  Hughes savored interweaving this fulgurate talent. She also cherished the opportunity to work closely with three female lead characters.  "Mary, the youngest, just glowed with her love of acting, and Portia was in a really exploratory place with her acting.  And, I got to guide Marion in aspects of her role that were really rewarding."  In bringing these actresses into their roles, Hughes felt honored to watch them succeed and for the "great gift to see them fly…to see them get there!"
One may wonder how often a director is changed by their involvement in a project.  For Hughes, "This experience 100% changed my understanding of film-making.  I am just fascinated with the whole process and I know it will interest me for the rest of my life." The collaborative and hands-on emphasis of CFSSB intends to give all participants a deeper understanding of the art of cinema.  "What I have been discovering creatively just blew my mind.  Now, in editing, I am learning what I didn't shoot, what I missed.  I am going to approach my next script in an entirely different way... there are just so many elements it really is a miracle any movies ever get made!"
With great candor, Hughes confesses "I was terrified on the first day that no one would come back.  But then this extraordinary core group kept showing up and you realize they are here because they are enjoying it.  Something we are doing is making them come back.  You become curious about what is in them that brought them and you want to find out what it is…They made the project develop."  As evidenced in the range of age and experience, those who assembled each morning came for many reasons, and yet it was the challenge that lit their eyes and sustained their focus.  "This is certainly not for the faint of heart. It pushes people."
Coming in Part 3: Producer Christine Fry